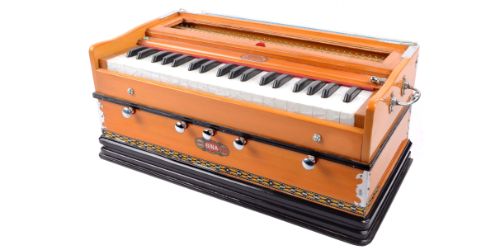 instruction manual
Congratulations on your fine choice! You are now a proud owner of a quality, genuine BINA musical instrument. BINA products are famous for their tonal quality as well as their reliability. BINA MUSICAL STORES was established over five decades ago, and has since then become the largest manufacturing and exporting house of premium musical instruments in India – a result of our constant endeavour to offer superior value and commitment to the discerning musician. Being the pioneers in the art of making the Harmonium, because of which BINA is a household name in select music circles, we have diversified, and can now boast of an impressive array of musical instruments in our product line. The name BINA assures you of excellent quality and constant effort to exceed customer expectations.
The harmonium is a very useful and all pervading accompanying acoustic keyboard. It is basically western in origin and entered India along with British rule, but the Indian Harmonium is now the sole survivor from its family that is being manufactured and used in a major way. It fitsadmirably in the Indian style of music rooted in melody of notes owing to its infinite adaptability and range of adjustments despite its limitation of having only fixed notes. BINA Harmoniums are made from high quality seasoned wood.

Standard harmonium is the basic form of the harmonium as depicted in the picture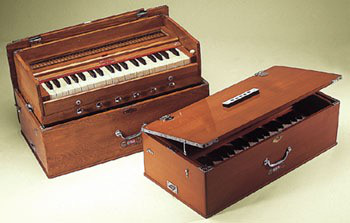 Portable harmonium is a standard harmonium that settles into a cavity that closes to form a suitcase shape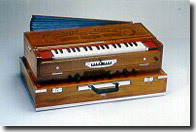 Scale changer is a harmonium in which the keys are not fixed over the reed board. The keys are instead mounted on a movable plate which slides sideways making one key's place able on another note, thus allowing you to transpose over 9, 11 or 13 scales, depending on which model.

Single-fold bellow.

Double-fold bellows

Triple-fold bellows

Multi-fold bellows.
Standard coupler option comes in most harmoniums. This type of coupler is a lever fixed to the right of the keyboard and when in the up position is ON (engaged) and when in the down position is OFF(disengaged).


Scale changer harmoniums have the coupler on the front panel with the stops. It is the stop to the right (left in some) and slightly above the other stops.When  pressed the coupler is ON (engaged) and when pulled out it is OF (disengaged).


Model Nos. 9, 17s, 23 B 3 ½, and Sangeet (9 stops)
Model Nos. 8, 11, and 12 (7 stops)
Model No. 5, 10 and Bina Tarang (5 stops)
Model No. 23 B 2 ½ Oct. (4 stops)
Model Nos. 9, 17s, 23 B 3 ½, and Sangeet (9 stops)
Note: all keyboards begin with the note 'C'.
Once again, we thank you for choosing a BINA Harmonium and wish you years of melodious playing, and assure you of any assistance you might ever require.